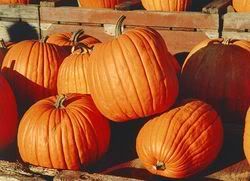 Sorry I have taken so long to post and to update myself on your lovely blogs. For some reason, our laptop has suddenly decided not to work on our network. Until we get that fixed, I can't be online as much because I'd be sitting in our office all day and not getting anything else accomplished!
I wanted to share a recipe with you.
I just made this, and believe me -- it is soooooo yummy! The best thing about this recipe is that you can eat some and still have plenty to share!
This yields 3 loaves ...
Here's what you need:
3 cups white sugar
4 eggs
2/3 cup water
2 teaspoons baking soda
1 teaspoon baking powder
1 teaspoon ground allspice
3 1/2 cups all-purpose flour
2 teaspoons salt
1 teaspoon ground nutmeg
1 teaspoon ground cinnamon
1/2 teaspoon ground cloves
1 (15 ounce) can pumpkin puree
1 cup chopped walnuts
1 cup raisins
1 cup vegetable oil
I always make my breads without raisins and nuts, but it is still super yummy.
Here's what you do -- so easy!
Preheat oven to 350 degrees F (175 degrees C). Grease and flour three 7 x 3 inch loaf pans.
Mix oil, sugar, and eggs together in a large bowl. Mix in pumpkin puree and water. Stir together flour, soda, baking powder, salt, and spices. Add to the pumpkin mixture, and mix until just combined. Stir in nuts and raisins. Divide batter into prepared pans.
Bake for 1 hour. Cool on wire racks.
I got some foil pans at the store so I could give a couple of loaves away, and they took about 15 minutes longer to cook. Check the bread after an hour and make sure it's done.
Recipe from allrecipes.com